The adventure on tap for today was to find a hiking trail that was close to home that we haven't hiked before. We're lucky in the Durham area to be so close to Duke Forest and the Eno river.
After a bit of online searching with coffee and couch time, we settled on New Hope Creek North. Parking was at Hollow Rock Nature Park off Erwin Rd. From there we crossed the road (despite explicit advice from signs that say do not cross the road, which I had never seen anything like) and headed north.
Strava Activity Entry for New Hope Creek North
The morning was cold and the trail was covered in fall leaves. After a little bit of downhill through the woods we came to the creek and proceeded to turn the wrong way. After a little bit of backtracking we trekked up Piney Mountain and along the river until the spot marked "bridge", before turning around and hiking back.
This hike along the river was incredibly scenic, full of spots where it would be nice to stop on a sunny day and have lunch. You can see the water winding its way through giant boulders in quite a few places. There was a little bit of stream crossing, bank climbing, and rock climbing involved that makes this trail exciting.
There was no current bridge to be found at the spot marked bridge. Only the remnants of where you can imagine a bridge might have been. I should probably check out Open Street Maps and see if there is a "way" here and tag it appropriately.
We were on the north side of the creek, and we could see lots of rock overhangs on the south side that might make interesting spots to hang out. In one location there was a large tree that fell across the river that looked too inviting NOT to climb. We skipped it today because it was just too cold to risk it – but maybe someday we'll be back.
This tree looks like it came down during hurricane Michael. It was blocking the trail so we had to go around on the root side.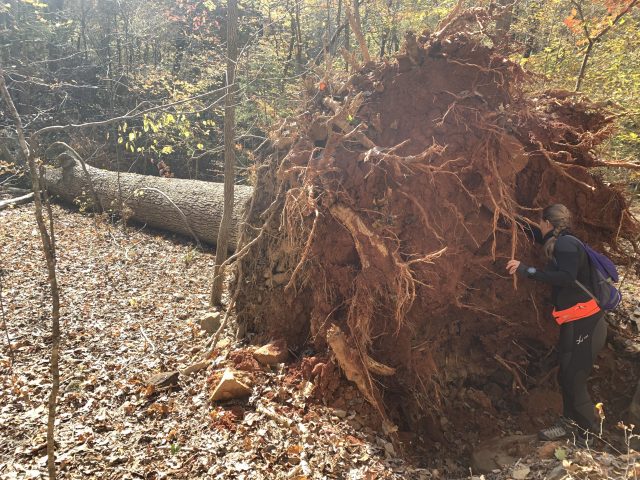 There were boulders lifted up with the root ball. I'm guessing this tree was here for a long time. One hundred years? More?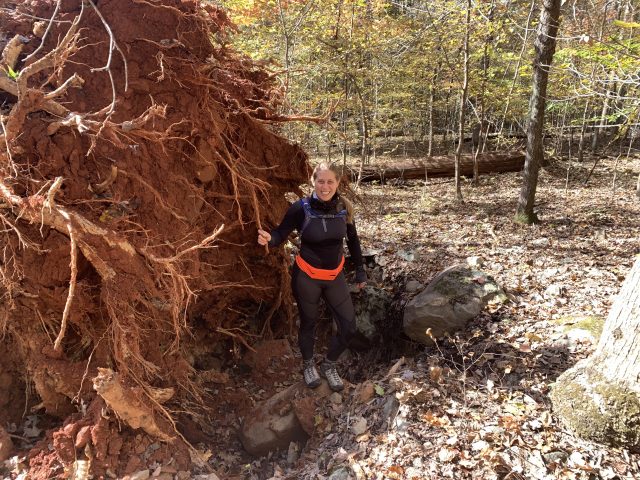 There were lots of interesting spots to get up close and personal with the running water. On a sunny day I can imagine this being a great spot to hang out.