Breaking Point
I used to say "I'd never run unless someone was chasing me." Well I've finally reached that point.
I woke up one morning this past winter and realized I was going to be woefully unprepared for an upcoming snowboarding trip. My belly would throw off my balance, causing me to bounce and roll down the entire mountain. I'd be dead tired just halfway down my first run. If I screwed up enough I could actually be dead.
It could happen because my mental image of myself no longer matched up with the image in the mirror (to say nothing of the scale). Somehow I'd lost touch with my actual self. Dirt biking, mountain biking, snowboarding, all of these things were no longer in easy reach. I saw myself as a fit 20 something rather than the fat, bald 30 something I was.
On top of the life and death safety issues, it would also be a huge waste of money to go on a big week-long snowboarding vacation (where the whole point is peak physical activity) to be stuck taking half days or resting on my ass most of the time.
Let's be pragmatic here. Death is terrible, sure, but wasting money and vacation time is unacceptable.
The Solution
Thanks to my friend Heather I bought a FitBit Charge HR and the Aria scale. Tech toys! Things I can hook up to my WiFi!
The plan was to use these as motivators to be a little more active. Take the stairs more often, walk a little bit more, have friendly competition, see how much I ACTUALLY weigh each day.
The plan worked a lot better than expected!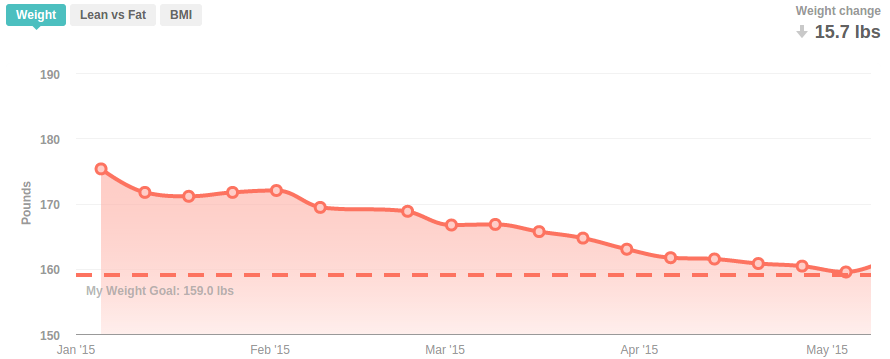 Three things really combined to help me out.
1. Tracking
Tracking my progress was amazing. At first there were absolutely no weight loss changes, but even on the very first day you can see how many steps you take, how many flights of stairs you climb. A pretty graph is drawn of every stat you can imagine. You can challenge yourself to do more everything!
2. Competition
Not only can you challenge yourself, you can see how many steps your friends are getting. Friend some folks, challenge them, beat them. Be beaten yourself by friends who constantly seem to be more active than you!! It's a huge motivator to see that other people are along for the ride. It's satisfying to look at the charts and see you're at the top, but still encouraging when you don't make the top yet your friends with busier lives than you'll ever have are still killing it.
3. PROGRESS!!
That chart above is probably the number one long term motivator. Without the scale and without weight-loss-goal progress I don't know if I could have kept up the activity day after day, month after month. Sometimes you want to come home from work and take a nap. How do you fight that urge to nap and instead go walk a few miles? Knowing that you're being tracked, that you set a goal, that you're competing, and that you are working for progress, these things are HUGE to keeping up with the work.
Running
How did FitBit tracking steps and losing weight turn into running?
This is a problem primarily of metrics. The metrics you track are the metrics you'll improve. FitBit tracks many things, but mainly steps. 10,000 steps is the default step goal per day.
I started this whole process walking, but the weather wasn't always great, so it would be treadmill time for me 🙁 I'd listen to podcasts and audio books but getting all the steps in could take a LONG time at 4 miles per hour. Who has an hour to walk on a treadmill?
The Thought Process
Week 2: What's faster than walking? Jogging a little? Crank that speed up. Wow – the steps just fly by!
Week 4: Holy shit! I wonder how fast I could finish 10,000 steps in?
Week 6: Hmm, I wonder what the best time is that I could run a 5k?
Week 10: Wow, the weather is nice – let's go outside.
Week 12: That run club that meets at the brewery I like seems cool, and I have friends that go. It's only 4 miles, I'll take a rest or two.
Week 13: It's only 4 miles, I bet I could do it with just one break.
Week 15: It's only 4 miles. I bet I could just run the whole thing.
Today: Man, work is taking so long today. I can't wait to get home and run.
So You Think You Can Run?
Now I guess I'm a runner. I have a desire to get out there and run. I look forward to it. I run with friends. I run alone. I do it for me.
Not sure where this is going next. Hopefully the running persists. I doubt I'll enter any races, but then again I said I'd never run.
I've been wrong before. Maybe I was being chased all along and it just took me a while to realize it.