Call me crazy, but I really love reading legal analysis at CYB3RCRIM3. I discovered the site via an OPML file passed to me by a friend in the security industry. Thanks Devon!
I can see how the walls of text might not be appealing, but the material is great. Legal writing is just so different; almost formulaic and with zero emotion. If you can get over the hump of reading court case opinions I think the subject matter is important to everyone. True human computer interaction… Here is where your technology comes into play to exonerate or incriminate you. In this particular instance we'll say it's where the rubber meets the road. (Sorry)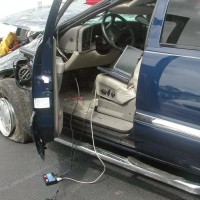 Here's a great example using a car data recorder where the defendant is appealing on a technicality that I won't pretend I'm fully behind. I LOVE reading between the lines though:
This driver was a huge dick and went out of their way to brake check someone. The data recorder in the car backs this up. This data is being used against the driver for a conviction (along with other testimony) and there is no way to contest these basic facts.
Are you aware that your car is spying on you? That your brake and throttle application along with your speed will be analyzed in full detail if you're ever in an incident that goes to court? They don't advertise that on the TV commercials for new cars. Do you know which car manufacturers record what data and for how long? Do you know how reliable that recorder is? Can it be hacked? Can I make it say I was going 1 mph with the gas and brake fully applied at all times (even when stopped)?
I'm not saying cars shouldn't do this tracking after a crash. I'm also not saying the driver shouldn't have been convicted. It seems like the justice system worked like it should have. I just like to know ahead of time how it is I'm being tracked and monitored. Personally, I think I'd opt out of this recording technology if it was possible to do so.
Thanks CYB3RCRIM3 for calling out the interesting cases!
I thought I was done writing – but just look at the next post involving a gang member and the forfeit of passwords. As a condition of probation this guy had to surrender all passwords to all social media sites. I didn't know it was even possible for the state to make that demand. Now I know! How would you feel about that if it happened to you?