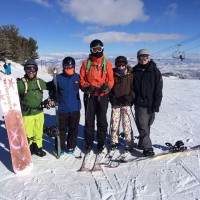 Day 1 in Park City was excellent. The sun was shining, there had been a touch of snow the day before, and we set out to explore the mountain. We got a bit of a late start because the trip felt very last minute for a lot of people. We needed the morning half of the first day to get equipment, rentals, and lift tickets sorted.
I drove the crew around in a minivan. I won't lie; I fucking love minivans. Right now we're driving a Chrysler Town & Country. Lots of amenities, tons of storage, room for all your friends. At this stage in my life a minivan is a little bit like a rolling party. It may be a bit excessive that there are 8 cup holders within my direct reach from the driver's seat, but oh well.
After getting all that sorted from 8:30 – 11 we hit the slopes out or back porch. No joke. We walk out our back porch up a small hill, ski down a short run, and arrive directly at the Town Lift in Park City. How bad ass is that?
Facebook has a lot of evidence of this. And I'll have to post some here when I get around to it.
The weather was incredible: clear, sunny, crisp, cold. Not too windy.  We explored a lot of the mountain doing a few runs in each section and by the end of the day we were just mentally and physically exhausted. So exhausted that we didn't even feel like getting in the hot tub.
Anneka baked cookies and made chili. As usual, I asked Anneka to marry me (I always do when she cooks for me), and as usual she said no. One of these days. Sorry Brendan!
Now it's time for breakfast and a potential trip to demo a different snowboard.