Event Details
Friday, August 17th 2018 
6:30PM - Midnight
The Cotton Room Durham
807 E Main St, Durham, NC 27701
3rd Floor
Jason and Kat are celebrating their 1 year wedding anniversary, and you're invited. Lucky you! After running off to the court house in Hillsborough last August, they're finally having the party.
6:30PM  – Arrive for Cocktail Hour (Wine, Beer, Fancy Cocktails, Passed Appetizers)
7:00PM – Wedding Party and Burns Couple Introduction
7:30PM – Buffet Dinner (Salads, Beef, Chicken, with Vegan and Veggie options if arranged prior) and Open Bar
7:30PM – Close – Dinner, Dessert, Champagne Toast, Cake Cutting, Dancing, Shenanigans
11:30PM – First Shuttle Departs for Hotels
~Midnight – Second Shuttle Departs for Hotels
~Midnight – 2:00AM – After Party at Alley Twenty Six
If you need a veggie or vegan meal please let us know in advance. Instead of going to the buffet, your server will work with you directly to bring your pre-arranged dish.
Getting There
The Cotton Room,  807 E Main St, Durham, NC 27701
Carpool, Uber, Lyft, Taxi, or Shuttle
We expect most local folks will drive themselves, so please carpool or plan to use ride sharing to get home safely. If you're staying in one of the downtown hotels less than 1 mile away, a shuttle service is available. Walking is possible – but it's hot – so you don't have to. Lyft and Uber are also plentiful downtown if the schedule below doesn't suit you.
Once you arrive, enter the main building and take the stairs or elevator to the third floor.
Shuttle Information
A 14 passenger shuttle will pick guests up from The Marriott, Unscripted, and Aloft to whisk them to The Cotton Room if they desire. Please indicate if you need the shuttle on your RSVP or by contacting Kat or Jason directly several days before the event. (We know there are about 15 of you out there so far!)
Pickup time from Marriott and Unscripted: Run 1 – 5:55PM, Run 2- 6:25PM
Please plan on being on the 5:55PM shuttle if you're at Marriott or Unscripted. If you don't make the first shuttle, you can catch the second one – but it's headed to Aloft next to pick up ~7 more people on the second run.
Note: Marriott and Unscripted guests will meet at "Major The Bull" statue between the two hotels. Bonus points for finding his twitter account.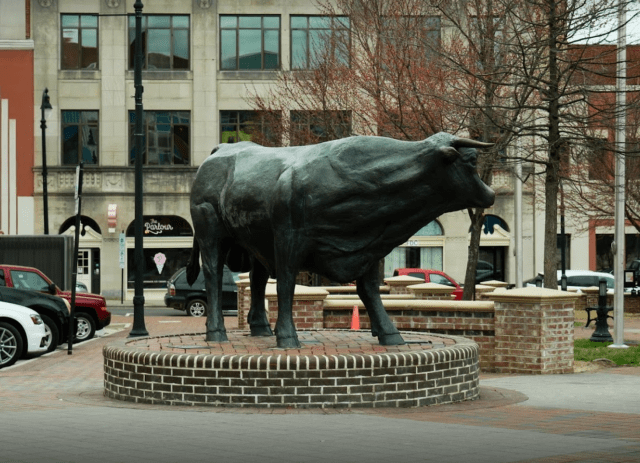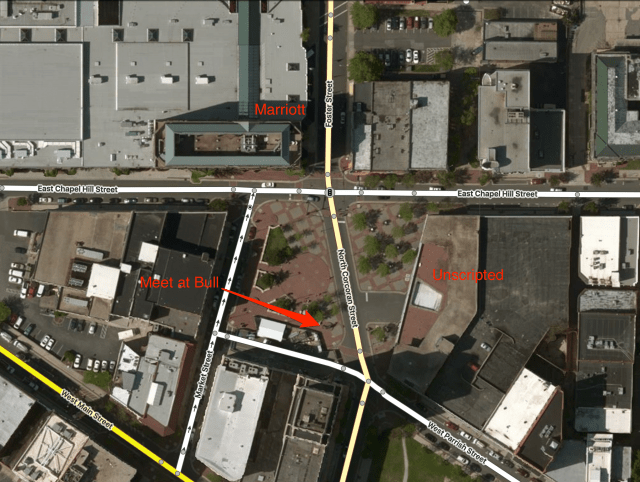 Pickup Time from Aloft: 6:35PM (only one pickup)
If you miss the Aloft pickup your best bet is Lyft or Uber.
This shuttle service is provided by our friends at Tap the Triangle and looks like the following.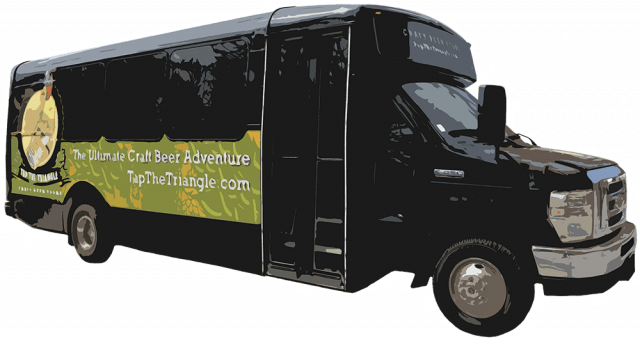 The shuttle will also take guests back to their hotels or after party at 11:30PM and around midnight.
Parking
You're welcome to park in one of two lots at The Cotton Room. If you leave your vehicle overnight, please pick it up by 9AM the next day since there is another event planned in the space on Saturday morning. See the image below for details on parking. You can enter the main building  on foot from either lot.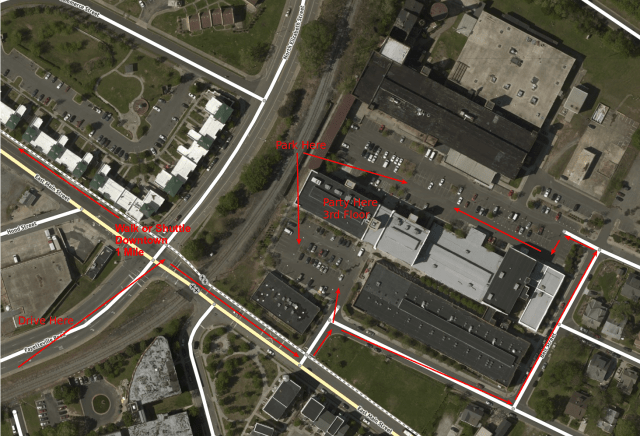 What to Bring
Bring yourselves. Bring your guest. Bring dancing shoes. Wear something fancy. Bring your phone to take a picture or two.
We're not registered anywhere for gifts, but if you want to bring a card you can drop it off in the bird cage card holder in the cocktail area.
After Party
If you reach midnight and aren't done celebrating yet, please join us at Alley Twenty Six for a nightcap. The shuttle will be going that way. It's right by Major The Bull.
Sharing Photos
We have a photographer, so there is no need to go crazy, but if you want to take some photos and share them with the crowd, there's an app for that.
Once  downloaded, enter "Burns",  select the wedding date and hit "Find", then fill out the info boxes.
Everyone should be able to see everyone else's photos thanks to the miracle of The Internet.  We recommend taking the photo first on your phone, then sharing it through the app from your camera roll, instead of taking pictures directly in the app.
This app asks for your email, so if you'd prefer to share photos with us directly just let us know.
Wedding Party
We wouldn't be here if it weren't for our amazing friends. We can't thank them enough for all they do, including showing up early to be in our photos.
Jason and Ashley George
Rama Darbha and Graciela Seila
Kenneth Russell and Nicole Turcotte
Peter Slow and Jackie Koble