I'm happy to announce that the Reference Architecture for Avaya Aura on Nutanix has been completed!
Aura is a Unified Communications platform with a lot of different components. All of these pieces can now be deployed in VMware vSphere thanks to the Avaya Aura Virtualized Environment and Customer Experience Virtualized Environment initiatives at Avaya. These projects bring together different Aura apps and produce virtualization guides and OVA templates for each product.
The Nutanix Reference Architecture above goes through the most common Virtualized Environment components and breaks down the rules, requirements, and best practices for running on Nutanix.
I'm happy that this document serves as an excellent reference for the administrator in charge of virtualizing Aura. Right now the information in these Avaya docs are spread all over the place. Having a unifying reference source is pretty helpful to any Nutanix administrator sitting there thinking "How do I virtualize this again?" and even helpful to Avaya admins thinking "Where is that doc?"
Aura Components
The core components I address are as follows:
| Component | Purpose |
| --- | --- |
| Call Control | Aura Session Manager and Communications Manager |
| Voice Mail and Messaging | Aura Messaging |
| Presence | Aura Presence Services |
| Configuration Management | System Manager |
| 3rd Party Integration | Application Enablement Services |
There are many additional components not covered directly in the guide, but I've included links to these where appropriate.
Planning and Design
Much like other applications on Nutanix, Aura designers and architects need to answer these question about each Aura VM:
How many vCPUs does this VM use and reserve (core count / MHz)?
How much RAM does this VM use and reserve (GB)?
How much storage space does this VM use (GB)?
What sort of IOPS are generated / required during peak hours?
Are there any other special requirements?
The Nutanix Avaya Aura Reference Architecture doc attempts to address all of these questions.
Here's an example of the information for Avaya Aura Communication Manager Duplex: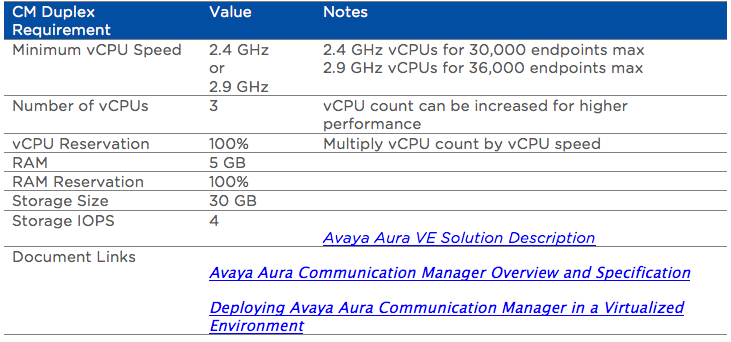 Put this individual machine information together with a sample layout. Your layout may vary based on the Aura design. Work closely with the Avaya Aura design team to figure out what components are required and what size those components need to be.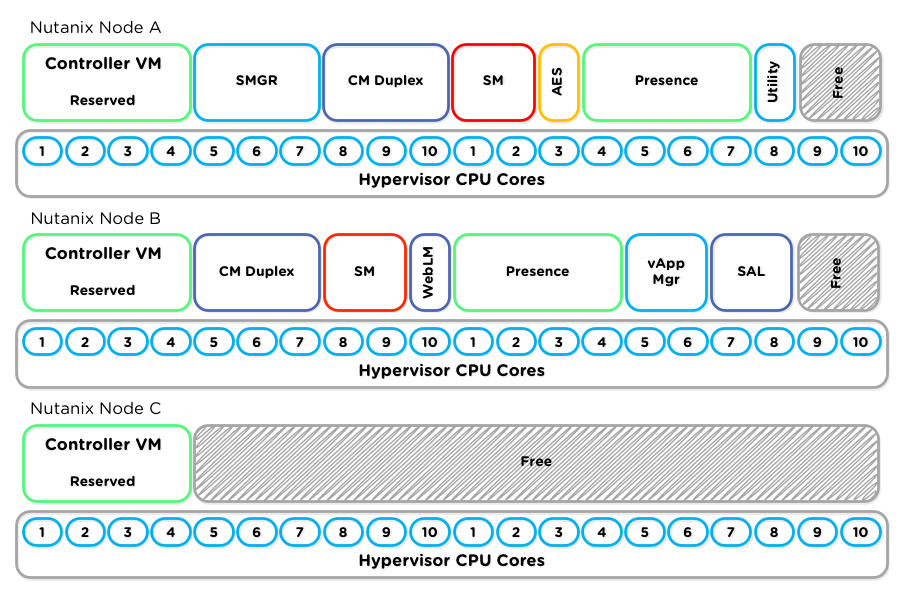 Once we know how many VMs and what their specs are, we can figure out the resource utilization of the end system:

With all this information together, the right Nutanix virtualization platform can be chosen. You can use the system with right CPU core count, the right amount of RAM, and the storage capacity and performance to provide exceptional end-user experience.
Your Aura design will certainly differ from the one listed above, but the processes laid out in the guide can help plan for a system of any size with any number of components.
If you have questions feel free to leave a comment, or head over to next.nutanix.com forums and visit the Workloads & Applications > Unified Communications section.