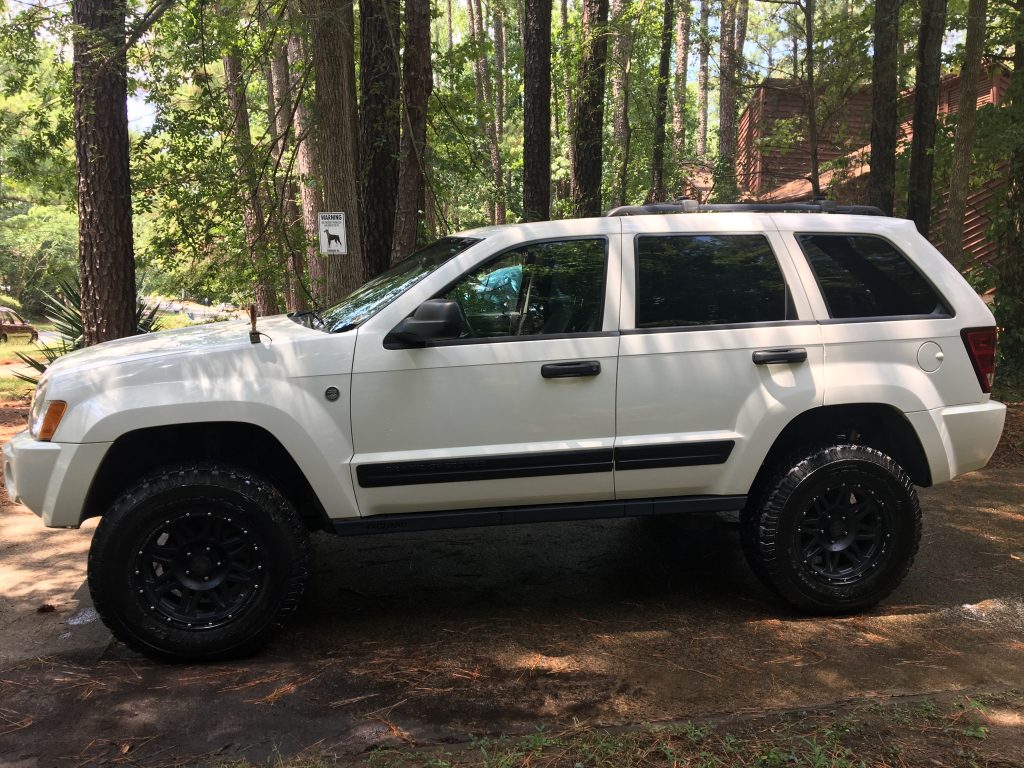 For Sale – 2005 Jeep Grand Cherokee (WK) with 4″ Superlift Kit
It's finally time to sell the Jeep. It's been good to me, but I don't have the time anymore to take it off road or give it the attention it deserves. This Jeep can do just about anything (as long as "anything" doesn't include being fuel efficient or quiet). It's been sitting parked, unloved, for about a year now.
If you're looking for something to do a bit of light towing (like maybe a dirt bike trailer), haul around a few friends in comfort, or even hit some medium difficulty off road trails, then this is the Jeep for you.
The Facts
2005 Jeep Grand Cherokee (WK) – Laredo – 4.7L V8 – 4WD
57,000 miles
White with black trim. Gray leather(vinyl-smooth anyway?) interior.
The Add Ons
No Jeep should be left stock! That's why I added:
4″ Superlift Kit – All parts documented here.
33″ Tires – 285/70-17 BFG A/T KOs x 5 (full size spare)
4xGuard Rock Rails (These look awesome)
Front Tow Hooks
Rear Hitch (with hitch hook)
CB Radio (because you need one for the trail)
6 pin trailer plug (gotta have lights on your dirt bike trailer)
Here is the full build thread from 2008 when I put everything together. You can read about what life was like after lift.
Stock axles. Stock transfer case. Stock gear ratios. No lockers (although I hear they're easy to do in the rear)
The Good
This Jeep looks awesome. You will not see many other WKs with this much lift. It can go just about anywhere you point it, whether you want to just drive over some curbs downtown, or over some rocks on an OHV trail. It'll take you, your passengers, and your gear there with heated leather seats and satellite radio.
It passes an emissions test! The check engine light is off. No codes are thrown on the scanner.
The Bad
The engine bay might be a little dirty. It might never be clean again actually. That's what this Jeep was for.

It doesn't pass a safety inspection because the shocks are leaking. The front struts and rear shocks should be replaced. The shop said this is the only thing required to pass inspection.
That's not all that's broken. Here's a complete list of everything I'd like to fix, but haven't had time:
Replace front struts
Replace rear shocks (SSR from Superlift package)
Replace broken rear anti-sway bar (It's a little loose on the highway without this)
Replace front rotors (honestly it would benefit from a big brake upgrade kit)
Replace Control Arm bushings
Replace all 4 ball joints
Fix clear coat peeling on driver side front fender and A pillar
Replace 3/5 tires because they leak slowly (never below 15psi)
Why Should I Want All That Work?
There is a little bit of work needed to bring this Jeep up to date on regular maintenance – but honestly nothing too unusual for a vehicle that's been off road. Things break. Things wear out. This Jeep can go to the mall – sure – but it's even more fun in the woods or in the mud with other Jeeps.
With a little bit of wrench turning to replace the shocks this Jeep can be ready to hit the trail again.